Renée LoBue - vocals
Sean Eden - guitar
Ray Ketchem - drums
Carl Baggaley - keyboard

With House of Tongues, New York's Elk City re-invent the seductive sophistication of 1970's FM radio pop - but never shy away from their formidable rock power.  
 
The striking blend of rock, folk, soul and jazz on their newest release separates Elk City from their peers in terms of ambition and expertise. Not since the brilliant American Music Club has a popular band so fully metabolized this range of influences to such masterful effect. The band shows its strength with elegance and ease on House of Tongues.  
 
Singer Renée LoBue's muscular pipes are ripped and ready to carry the torch. Her melodic songwriting filled with a bracing, confessional vulnerability. LoBue possesses one of her generations most versatile and distinctive voices, alongside the likes of Regina Spektor and The National's Matt Berninger. Her songs are a veritable transit rail from the intoxications of 1960's Bay Area psychedelia to the smoky Parisian outposts which might once have hosted Nina Simone.   
 
LoBue is well-matched with guitarist Sean Eden, who joined Elk City soon after the break-up of the legendary Luna. Eden's performance on House of Tongues may well constitute his finest on record. Certainly his identity as a player has never been cast in bolder relief. Eden expresses and withholds his playing in a manner perfectly reflecting the hope and anxiety of LoBue's lyrics. His playing is conversationally forthcoming yet willfully oblique. Eden extracts reservoirs of emotion from tracks like "Jerks On Ice" and he tears the cover off the closing moments of "Wire Goats" - a galvanic piece recalling mid-period David Bowie, with a vocal turn from LoBue evoking the effervescent readings of Brian Ferry.  
 
Producer/drummer Ray Ketchem's agile focus crops in on LoBue and Eden but is perfectly vignetted by new keyboardist, Carl Baggaley. Baggaley's facile transition from barnstorming barrelhouse rhythm playing to sophisticated, jazz informed digressions expands Elk City's already impressive range. In addition, Ketchem's propulsive drumming provides the drive for tracks like "Real Low Riders", which evolves from a minor key verse ala Sonic Youth into a major rave up befitting the best of Blondie.  
 
The international-timeline song "Nine O'Clock In France" finds LoBue dreaming of a night out in Paris from a very New York perspective. "Revelry won't wait!", exclaims LoBue on the track, and you'll want to join her for cocktails as the chorus unfolds.  
 
The conspicuous cover art for House of Tongues was created by American contemporary artist Brian Dettmer. Using a Harper's Dictionary of Classical Literature and Antiquities from 1937, Dettmer sculpted his unique interpretation of the splendorous architecture of Elk City's music.  
 
House of Tongues is indeed an act of architecture, each song building on the next with a runaway momentum culminating, finally, in one of music's great catharses. If there is a central moment, it would be "The Onion", a song which finds LoBue reading along with the famous lampoon as she simultaneously strips away the layers of artifice from her being. "I finally have the courage to look into the mirror and stand up for my life..."  
 
And here, over the course of five minutes and 37 seconds, a seminal artist reveals her essence and her brilliance, abetted by great band at the peak of their power.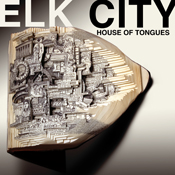 House of Tongues
FFR-019
Released: June 1, 2010


PURCHASE
$10.00 CD
$7.99 Digi
TOPSPIN
PURCHASE
$10.00 CD
$7.99 Digi
TOPSPIN